Find A Party!
The brand new album from the Toucans!

The Toucans have been hard at work in the studio during the off-season, choosing only the very best Toucan songs to record, just for you. Over a year in the making, our ninth album "Find A Party" is fresh from the tropics and available now!
"Find A Party" is a collection of our top songs from the past four years, from classic calypso tunes to modern hits, rock steady and reggae cuts, popular standards and even the theme song from Super Mario Brothers!
Featuring original cover art by local treasure James Sutherland, there's something for everyone in this great collection of all-instrumental steel drum music. We think it's our best album yet!
Order via Paypal

The Toucans can accept credit card payment via Paypal - just use the button below to get your copy of "Find A Party" today for just $10

(plus $1 shipping & handling)

.

Order by Mail

You can send us a check or money order made payable to "Toucans Steel Drum Band" for $10 per CD

(plus $1 shipping & handling)

, and we'll get an album in the mail to you right away. Mail your order to:
Toucans Steel Drum Band
PO Box 46502
Seattle, WA 98146

Download The MP3's

You can also find the CD and downloadable MP3's at CDBaby.com, our favorite indie music retailer.

Visit The iTunes Music Store

Our music is also available in digital formats from the iTunes Music Store. However, the submission process usually takes a month or two. We are expecting our music to be available there by February.

Hire The Band!

If you really want the ultimate in hi-fidelity sound reproduction, nothing beats having a live steel drum band right there in front of you. Think of how impressed your friends will be when we play our hit songs from "Find A Party" right there in your backyard! Find out how to hire the band on our Booking Page.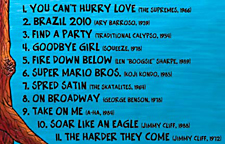 Thanks For Buying Toucans Music!
Toucans At Play