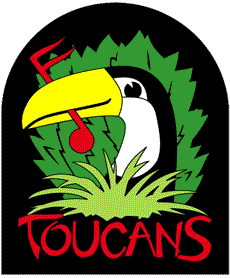 Get the swanky new Toucans embroidered patch for just $5!
Toucans Online Store
Here you can browse and purchase fantastic Toucans CD's, music from the Toucan Pirates, shop via Amazon, or even drop a couple of bucks into the handy Tip Jar to the right, using Paypal! (What's Paypal?)We can also accept payment via US Mail by check or money order.

Toucans CD's can also be found on CDBaby.com!
CDBaby is an independent online music distributor
in Portland, Oregon. They're #1 in the Toucans' book!
NEW: If you shop at Apple's iTunes Music Store, you can
now find select Toucans music online there, too!
*Please note that we can ONLY ship to the United States!*
For international orders, please use Amazon.com or CDBaby.
Donate your online change to the band's virtual tip jar!